Crowdsafe UK are an independent Security and Crowd Management company based in the East Midlands providing Safety Stewards and SIA Licensed Door Supervisors to a variety of events around the UK.
We do not believe in 'one system fits all' solutions and our services are bespoke to each individual client and event.  During the initial consultation we will cover all potential risks whilst understanding your individual needs allowing us to provide a truly bespoke service.
All of our team members are experienced and qualified and they take pride in their work operating professionally at all times.  We set our selves and our teams very high standards which we communicate and assess on a regular basis.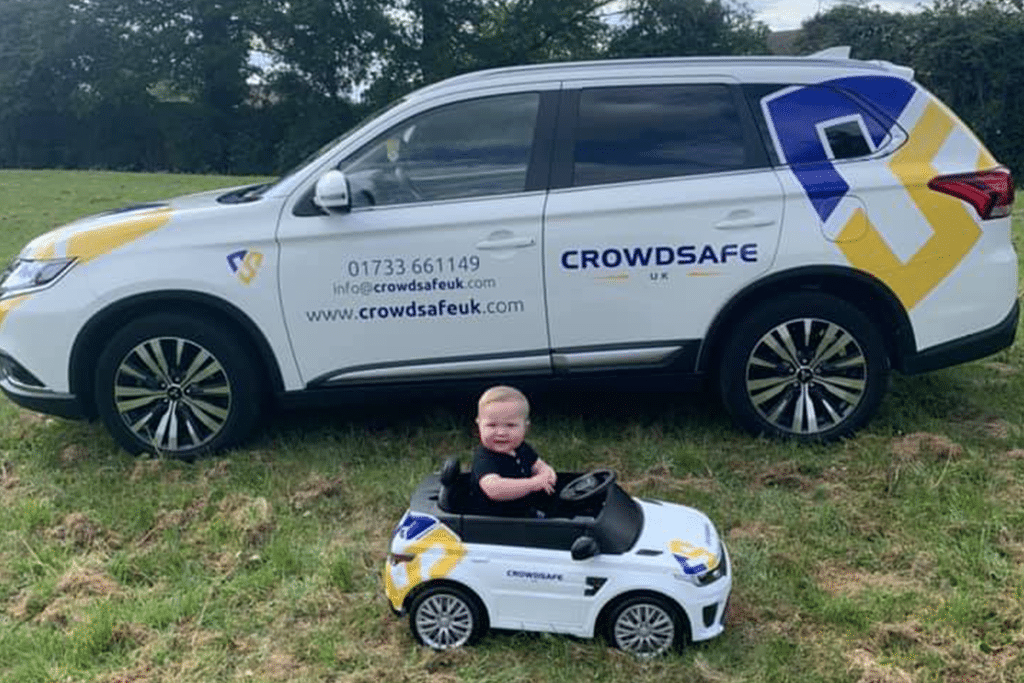 Adam Hesson FdA
Managing Director
Adam has been working in the Event Security Industry since 2003. Starting as a casual steward he quickly rose through the ranks and became an Operations Manager for his previous employer. Adam holds a degree in Crowd Safety Management which he obtained from Buckinghamshire New University in 2013. Adam has worked at some of the UK's largest and most prestigious events. These includes the Commonwealth Games in Glasgow, the Royal Wedding in 2018 and various UK tours with a variety of artists including One Direction, Elton John, Lionel Richie and Pink. Adam formed Crowdsafe UK in 2020 and is also the Deputy Safety Officer at Peterborough United.
Joe Errington
Senior Operations Manager
Joe started his career in 2012 and worked the event season alongside his other passion, teaching snowboarding. Joe soon realised he could make a career in the Security Industry and focused all his attention to it in 2017. Joe is one of the Zone Managers at West Ham United and has led on various projects including the Battle Proms UK tour, Little Mix concerts, concerts at Alexandra Palace and the Cambridge Half Marathon. Joe joined Crowdsafe UK in 2020 and is integral to the day to day running of the company.
Simon Singh
Senior Operations Manager
Simon has over 20 years' experience in the security industry and has held many prestigious roles with his previous employer. Simon was the Venue Manager for backstage security at the o2 Arena from its opening in 2007 to 2014 and in 2014 Simon coordinated the stewarding deployment for the Tour de France which was held in Yorkshire. This included the deployment of over 10,000 staff over a 3 day period. Simon also holds his Close Protection License and has previously toured with the likes of Madonna, Catfish and the Bottlemen, Ellie Goulding, Take That and Enrique Iglesias. Simon also holds a degree in Crowd Safety Management.
Steve Singh
Senior operations manager
Steve has over 20 years' experience in the security industry and joined Crowdsafe UK in 2021. During his time at his previous employer, Steve was the first Operations Manager to open an additional office outside of its headquarters. Steve single handily grew the office in Birmingham to become one of the biggest event security companies in the city. In 2014 Steve coordinated the Security for all the outdoor events at the Commonwealth Games in Glasgow and in 2018/2019 was the Head of Security at the prestigious German Markets held in Birmingham.  Steve also holds a degree in Crowd Safety Management.
Ian Miller
Senior Supervisor/Chief Steward
Ian has been working at Crowdsafe UK since it was formed and has quickly gone through the ranks to become the Senior Supervisor at the company. Ian is also the Chief Steward at Peterborough United FC. Ian's proactive manner has enabled him to become a senior figure at a variety of events and venues. These include; Cambridge Corn Exchange, Dragonboat Festivals and Northampton Saints rugby club.
Sye Roberts
Safety Consultant/Safety Officer
Sye is a highly skilled and knowledgeable professional with signification experience in planning and delivering complex security operations. Sye began as a Police Constable in 2005 and left the Police in 2019 following a 5 year spell as the Dedicated Football Officer and Operational Planner for the Cambridgeshire Constabulary. During his career with the Police, Sye planned the Police response for a variety of high profile events including; multiple Royal visits, and Trumps visit to the UK. Sye is now the Head of Strategic Risk and Stadium Safety Officer at Peterborough United and a Safety Consultant for Crowdsafe UK.
CrowdSafe UK Ltd manage all the clubs Security requirements on Match Days, Events Days and out-of-hour requirements at a number of Peterborough United's sites. CrowdSafe are highly recommended Security provider as they offer a reliable, safe, accountable Security service with scope and capacity to manage flexible alterations when event risk assessments demand change. The individuals behind the scenes within the management structure have an excellent individual portfolio and are also highly recommended in their own right. For all Security requirements, CrowdSafe come highly recommended and Peterborough United look forward to maintaining a successful working partnership.
'Crowdsafe UK came to us not via a salesperson but by recommendation and I can only say that its one of the best recommendations we have had. Security for us is a client facing role and a security person on duty often represents a visitors first interaction with our venue. Crowdsafe staff are well trained and professionally turned out and also dependable. In addition having worked with Adam Hesson, he and his team are responsive at all times whether on radio or in person. They are proactive and well resourced and I have found them dependable in situations where we are all pushed. I have no hesitation in recommending Crowdsafe for events large or small.'
We first started working with Crowdsafe UK at the Cambridge Marathon in 2020. This event is one of our largest and saw a deployment of over 175 staff across the city centre and surrounding areas. An event of this scale can often cause logistical issues, however we found the meticulous planning and effort from the management team at Crowdsafe UK really put our minds at ease. Their staff are friendly, proactive, presentable and worked extremely well with our own in-house team. Following the Cambridge Half Marathon, Crowdsafe UK have become our preferred supplier for our Stewarding and Security needs at all of our events at our events around the country. Adam and his management team have a can do attitude and a passion for events which sets the standard for the Crowdsafe UK staff to deliver to. We would recommend them highly. I have no hesitation in recommending Crowdsafe for events large or small.'
Contact us to see how we can help solve your security challenges
Contact us in a way that suits you, email, phone or drop us a message